Punk Hazard
is an island located in the
New World
and is the first island the
Straw Hat Pirates
disembark on (after receiving a distress call from someone on the island) after arriving in the New World. According to
Trafalgar Law
, it is an island that is not possible to "log". It is where
Akainu
and
Aokiji
battled for the position of fleet admiral for ten days. The island is relatively close to Dressrosa, as travel between the two islands can be performed in a short period of time. It is the main setting of the Punk Hazard Arc.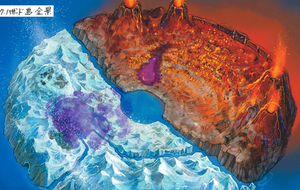 The island is surrounded by a sea of fire on one side and icebergs on the other. In the center, there is a hole where seawater flows into it, which separates both halves of the island and has sharks living within. This hole has fierce wind and currents running across it. As touched upon by Robin, the extreme temperature differences between the ice and magma lead to an equally extreme difference in air pressure, forming massive gale-force winds. The lake was originally a crater formed at the epicenter of Akainu and Aokiji's death match and then later filled with seawater, though the aftermath of the duel did leave behind patches of burning and frozen waters in the lake. The entrance is bolted with a danger sign, hazard stripes, and the logos of the Marines and World Government. The external border is heavily fenced in and inside lies a military base.
Inhabitants
Edit
Community content is available under
CC-BY-SA
unless otherwise noted.