Enies Lobby
, also known as
The Judicial Island
, was a government-controlled stronghold in Paradise together with the
Marine Headquarters
and Impel Down, and the headquarters of
CP9
. Enies Lobby is located on an island referred to as both the "afternoon island" and the "never-night island".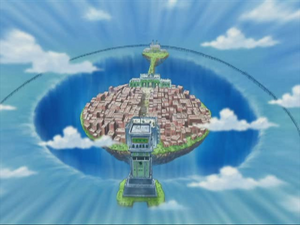 Enies Lobby led to Impel Down and the Marine Headquarters directly. Because of this, there were many government agents stationed there, roughly 10,000 men, a mix of those from both the World Government and the Marines. The island also had a courthouse, which made it easy to transfer high-level criminals through Enies Lobby and directly into Impel Down, or to the Marine Headquarters. Due to recent events, the island has been completely annihilated and left in ruins due to the effects of a Buster Call. It is unknown if it was rebuilt during the timeskip.
The Judicial Island
Edit
Enies Lobby has extremely strange oddities that many islands are not known to have. Among them is a large waterfall under the island, leading to nowhere except a huge black void, although there is water down there. For some reason a large amount of land, as well as the buildings on it, hangs over this void only connected to the rest of the island by a small bridge of land. It is never night-time on the island; even during large storms, such as the Aqua Laguna, there is still sun shining upon the island. There are also many whirlpools behind the island, and a giant gate, the Gates of Justice, which only ever opens a little bit to let criminals through, and when opened stops the whirlpools because of the tides.
Architecture
Edit
Enies Lobby Staff
Edit
Main Article: CP9
After the Buster Call
Edit
Community content is available under
CC-BY-SA
unless otherwise noted.